After a VERY flat summer we are all excited about the potential waves Hurricane Dorian may bring.

But before you wax up your board and paddle out, make sure you check out the City of Deerfield Beach's Hurricane Preparedness Guide and prepare for this potential major storm. Stock up on essential supplies then head to Island Water Sports for all of your surfing needs.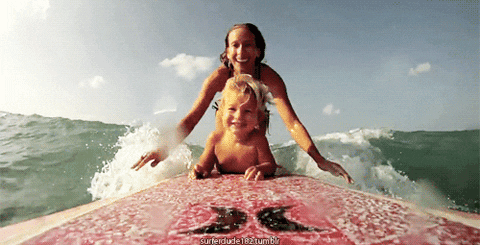 HERE ARE THE 9 THINGS THE ISLAND WATER SPORTS CREW CAN'T LIVE WITHOUT DURING A HURRICANE SWELL:
FU WAX
Bigger surf calls for better gear. If you're planning on paddling out for Hurricane Dorian be sure You have Fu Wax on your step up board. You're gonna need it to keep your feet in position on those gnarlier then normal take offs. We've traded in the days of methodically groomed bumps of traditional surf wax for the new hot, stringy mess of this hyper-tack goo wax from Brazil. We'll be honest, Fu Wax is gonna stick to your board bag, car seats, and chest hair but when you land that air reverse with out a slip, you too will be a believer. available in base coat, cool, cold, warm and tropical.
FCS REGULAR LEASH
If you're a surfer from Florida you've heard this saying, "The lighter the leash the less the drag". This is true when speaking about the weak wind slop in which us South Floridans have come to embrace. But when it comes to Hurricane swell it is important for you to have the right equipment. Avoid the long swim of shame by switching out your comp leash for a FCS 6 foot leash. This will give you that extra hold you need if you find yourself nosediving out the back on the first wave of the set. Shaka bra.
YETI COOLER
Built to last, the YETI Tundra 35 qt. Cooler is everything you need to weather the storm. The "keep ice forever" technology will keep your hurricane party bevs chilled and your snacks fresh. The Yeti Tundra has a freezer-style sealing gasket to help keep hot out and the cold in, so when the storm has everyone stressing, your Yeti will be as cool as a cucumber. Plus, it's bear proof! Don't think you'll have to worry about this during Hurricane Matthew but it's good to know. The lid is secured with a full-length, self-stopping hinge that helps prevent hyper-extension and breaking, and the nylon rope and textured grip handles provide easy carrying.
WIRELESS SPEAKER
It's bad enough to loose power but to sit in silence is unnecessary.SkullCandy is making you the life of the Hurricane Party, with their glow in the dark wireless speaker. Did we mention it glows in the dark?? It's like this thing was made to ride out the perfect storm. Plus it keeps a 8 hour charge so plug it in now and you'll have groovy jams on deck while Hurricane Matthew boogies it's way on up the east coast. Check out some of the rocking features this little boom box brings to party:

- Stream your music from any Bluetooth® enabled device.
 - Durable construction and portable design make this wireless speaker perfect for on the go.
- Keep the party going. It can play music for up to 8 hours.
- Play, pause, and cycle through tracks using the middle circle, + and - buttons.
- Produces attacking, powerful bass; warm, natural vocals; and precision highs.
NIXON BASE TIDE
Like most humans, you have become undoubtably dependable on your iphone or android to tell you what the tide is doing, how big the swells gonna be, and which direction the wind is blowing. But what happens when Hurricane Dorian shows up and you lose power? Charging these devices becomes challenging and your precious all knowing phone or computer becomes a big paper weight. So now what? You can't ask Siri what the outgoing tide is at Deerfield Beach, but you can ask the Nixon Base Tide. Only the Base Tide grabs real-time data from Surfline and displays the current surf conditions at over 27000 surf breaks world wide. Current conditions are displayed on the watch's face with detailed reports including tide status, wave height, wind direction and speed, swell direction, and the temperatures of both the air and the ocean.
The Base Tide uses a battery like a regular watch so no charge necessary. The battery lasts at least one year, and to restore it, you ship it back to Nixon. Nixon will replace the battery for free and service all the gaskets to make sure the watch stays water-tight.The Base Tide Pro delivers a double-overhead dose of durability and functionality. Featuring 550 pre-programmed tides and sunrise/sunset locations inside a tough-as-nails case, the Base Tide Pro is one of the toughest in the lineup.
SKULLCANDY PORTABLE POWER PACK
In the world of "Snapchat", "Insta Stories" or "It didn't happen!" - don't be kicking yourself for missing the barrel of your life cause your battery was dead. If there's anytime to have the GoPro camera  & smart phone charged up it's during a Hurricane Swell. 
For power in your pocket, choose the Skullcandy Stash Portable Power Bank! The Black Speckle Stash packs an entire day's worth of power. Depending on the size of the device you're charging, you can count on a power boost from Stash when you need it most—from 24 hours on your phone to 6 hours on a large tablet. Featuring a slim design with smooth edges, Stash is no bigger than most phones. It's a powerbank you can easily stash away and proudly show off when using!
ISLAND WATER SPORTS WIND BREAKER
If you live somewhere tropical you know jackets seem like an overkill. But with Hurricane Dorian possibly packing in the wind of a Category 3 storm and torrential down pours, a little outer shell doesn't sound so bad. Our windbreaker blends style and function for a perfect light weight snap jacket to keep you dry during those stormy surf checks.
RIP CURL E-BOMB PRO
https://www.islandwatersports.com/rip-curl-e-bomb-pro-1mm-l-s-wetsuit-jacket.htmlFlorida East coasters are blessed with tropical conditions almost year round, but when hurricanes like Matthew roll through the air temp can get a little chilly above the water. With waves only sticking around for a couple days don't let the windchill shorten your session. grab one of the new E-Bomb Pro wetsuit jacket. It is made of some of the softest 100% superstretch E4 neoprene we've ever seen! The underarm and back panels feature an extra soft action panel made of Rip Curl's exclusive E4+ technology for even more freedom of movement. Also features a pull cord waist for better fit, a boardshort connector, and durable E-Stitch high stretch seams. An excellent wetsuit top for any Hurricane Swell or surf trip.
JS SURFBOARD
The JS Black Box is one of the most versatile surfboard models in the world. This is the board that gives you the greatest chance for maximum fun and peak performance in all conditions. Besides, what better excuse to buy a new board, than a hurricane swell. And if you are tapped out a little from all the hurricane supplies, stop in the store for a HUGE selection and a ton of deals on new and used boards or grab one of our rentals.